Product Description
Multidirectional forging hydrodynamic fluid coupling with precision CNC machining
   Muyang machinery is a manufacturer with the capability of comprehensive services of casting, forging and machining, committed to the production of customized parts. Since established in 2002 (former Miaosen Machinery Co., Ltd), we've been supplying to the global market for over 15 years, served industries include automotive, railway, gas and oil, medical machinery, construction machinery, gym equipment, etc.
Process

Hot forging, cold forging, die forging with secondary service

Material

Carbon steel: A36,1045,1035 etc., Alloy steel: 40Cr, 20CrMnTi, 20CrNiMo,42CrMo4 etc., Stainless steel, SS304,SS316 etc.

Standard

ISO, DIN, ASTM, BS, etc.

Weight

0.1kg – 20kg (in accordance with product structure)

Applicable Machining Process

CNC Machining/ Lathing/ Milling/ Turning/ Boring/ Drilling/ Tapping/ Broaching/Reaming etc.

Machining Tolerance

±0.005mm

Machined Surface Quality

Ra0.8-Ra3.2 according to customer requirement

Applicable Heat Treatment

Normalization, Quenching, and tempering, Case

Hardening, Nitriding, Carbon Nitriding, Induction Quenching

Applicable Finish Surface Treatment

Shot/sand blast, polishing, Surface passivation, Primer Painting, Powder coating, ED- Coating, Chromate Plating, zinc-plate, Dacromat coating, Finish Painting

Testing equipment

Supersonic inspection machine, Supersonic flaw detecting machine, Physics and chemical analysis etc.

Packing

Wooden cases or according to customers' requirement

MOQ of mass production

1000-5000pcs ( in accordance with the actual condition)

We promise our clients a careful, safe, and tight package for exporting!
Standard packing: pearl cotton/bubble bag + carton box + pallet/wooden box
Special packing: custom packaging + wooden box
FAQ:
1. Are you a manufacturer or trading company?
We're a manufacturer with self-export rights. 
2. What's your main business?
Our main business is custom metal parts processed by CNC machining, casting, forging, etc., serving industries including railway, automobile, construction machinery, gym equipment, water gas, and oil.
3. Directly get to CONTACT or send your product drawing/inquiries to email, we will reply within 1 hour.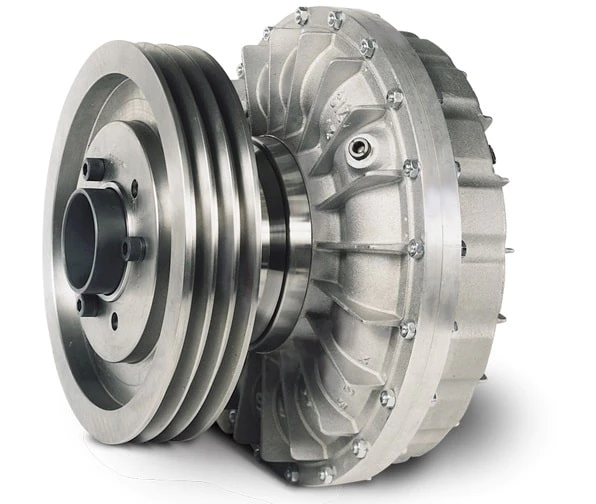 What are the Differences between Fluid Couplings and Mechanical Clutches?
Fluid couplings and mechanical clutches are both components used in power transmission systems, but they operate on different principles and have distinct characteristics:
Operating Principle:

Fluid Coupling: A fluid coupling uses hydraulic fluid to transmit torque. It consists of an impeller and a runner immersed in a fluid-filled chamber. When the input shaft (driving member) rotates, it imparts motion to the fluid, which in turn drives the output shaft (driven member).
Mechanical Clutch: A mechanical clutch relies on physical contact between friction surfaces to transmit torque. When engaged, the clutch plates or discs press against each other, creating a mechanical link between the input and output shafts.

Slippage:

Fluid Coupling: Fluid couplings allow a certain degree of slippage between the input and output shafts. This slippage provides a smooth start and helps protect the machinery from shock loads.
Mechanical Clutch: Mechanical clutches have minimal slippage when engaged, providing a direct and rigid connection between the input and output shafts.

Control:

Fluid Coupling: Fluid couplings provide automatic torque transmission without the need for manual engagement or disengagement.
Mechanical Clutch: Mechanical clutches require manual actuation to engage or disengage, allowing for precise control over power transmission.

Heat Dissipation:

Fluid Coupling: Fluid couplings dissipate heat generated during operation, which helps prevent overheating of the system.
Mechanical Clutch: Mechanical clutches may generate more heat due to friction, requiring additional cooling mechanisms in high-power applications.

Applications:

Fluid Coupling: Fluid couplings are commonly used in heavy machinery, such as mining equipment, crushers, and conveyors, where shock absorption and smooth starts are crucial.
Mechanical Clutch: Mechanical clutches are prevalent in applications where precise engagement and disengagement are required, such as automotive transmissions and manual industrial machinery.
While both fluid couplings and mechanical clutches serve the purpose of transmitting torque, their different operating principles and features make them suitable for specific applications and operating conditions.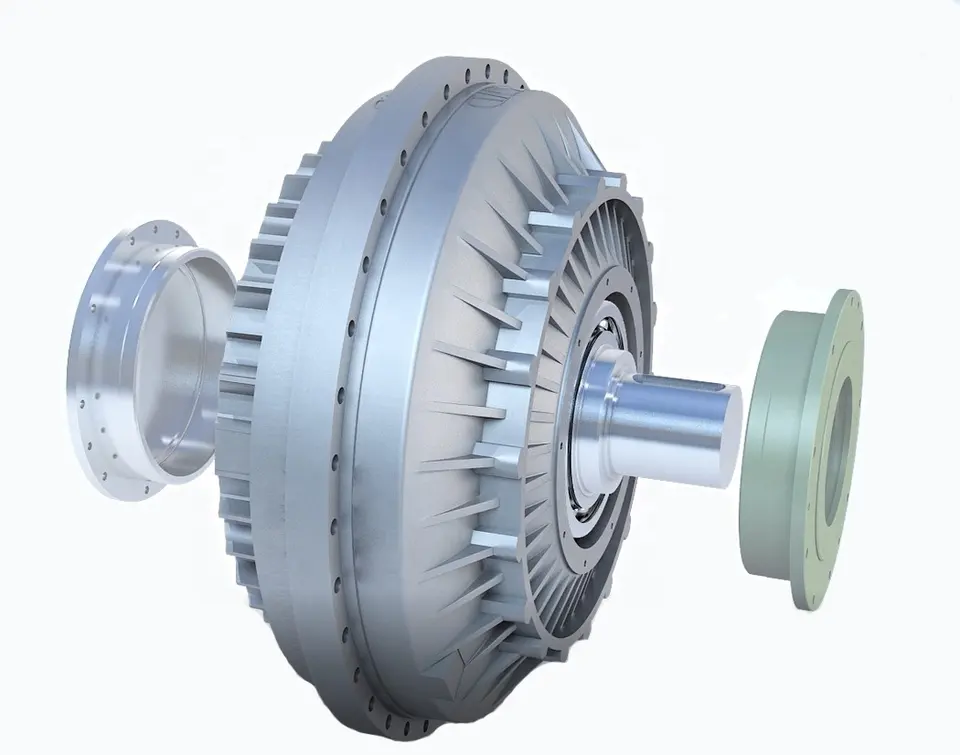 Special Considerations for Using Fluid Couplings in Explosive Environments
Fluid couplings are widely used in various industrial applications, including those in potentially explosive environments. When considering the use of fluid couplings in such settings, several special considerations must be taken into account to ensure safety and compliance with regulations:
Explosion-Proof Design: Fluid couplings used in explosive environments must be designed to prevent the ignition of flammable gases or vapors. They should adhere to explosion-proof standards and be equipped with robust seals and protective enclosures to contain any potential sparks or flames.
Ingress Protection: An appropriate ingress protection (IP) rating is essential to prevent dust, moisture, or other hazardous substances from entering the fluid coupling. A higher IP rating ensures greater protection against potential sources of ignition.
Material Selection: The choice of materials for the fluid coupling is crucial in explosive environments. Non-sparking or anti-static materials should be used to reduce the risk of ignition caused by friction or electrical discharge.
Temperature Limitations: Fluid couplings operating in explosive environments must have temperature ratings that prevent overheating and potential ignition of flammable substances. The fluid coupling should be adequately cooled to maintain safe operating temperatures.
Monitoring and Maintenance: Regular monitoring and maintenance of fluid couplings in explosive environments are essential. Periodic inspections can detect potential issues or wear that could compromise the safety of the coupling. Any maintenance or repair work should be carried out by qualified personnel following safety protocols.
Compliance with Regulations: Depending on the industry and location, there may be specific regulations and safety standards that govern the use of equipment in explosive atmospheres. It is crucial to adhere to these regulations and ensure that the fluid coupling complies with all relevant safety requirements.
Fluid couplings used in explosive environments play a vital role in ensuring the safe and reliable operation of industrial machinery. By providing smooth and controlled power transmission, fluid couplings can help minimize risks and improve the overall safety of the equipment and personnel in these hazardous settings.
Before implementing fluid couplings in explosive environments, it is essential to conduct a thorough risk assessment and consult with experts familiar with the specific safety requirements of the industry. By taking appropriate safety measures and selecting suitable explosion-proof fluid couplings, the risks associated with using power transmission equipment in hazardous areas can be effectively mitigated.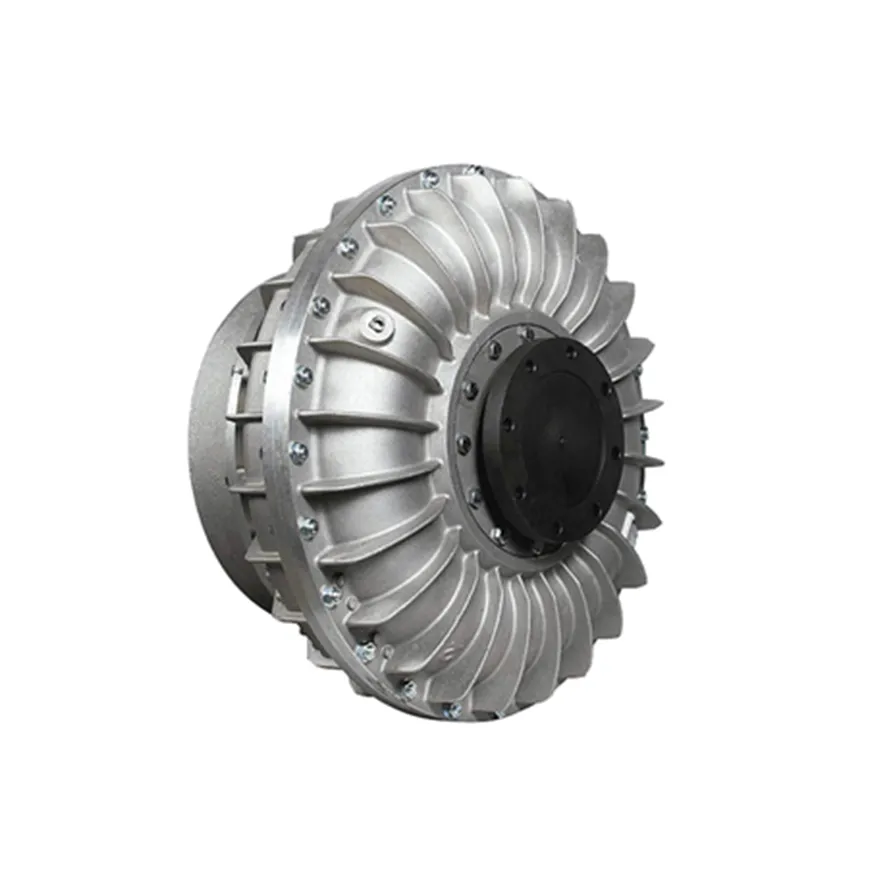 What is a Fluid Coupling and How Does It Work?
A fluid coupling is a type of hydraulic device used to transmit torque and power between two shafts without direct mechanical contact. It consists of three main components: the impeller, the turbine, and the housing. Fluid couplings are commonly used in various industrial applications, such as heavy machinery, conveyors, and automotive drivetrains.
Working Principle: The fluid coupling operates based on the principle of hydrodynamic power transmission. It uses a hydraulic fluid (usually oil) to transfer torque from the driving shaft (input) to the driven shaft (output).
1. Impeller: The impeller is mounted on the input shaft and is connected to the prime mover (e.g., an electric motor or an engine). When the prime mover rotates the impeller, it creates a swirling motion in the hydraulic fluid.
2. Turbine: The turbine is connected to the output shaft and is responsible for transmitting the torque to the driven system. The swirling motion of the hydraulic fluid generated by the impeller causes the turbine to rotate.
3. Fluid Filling: The area between the impeller and the turbine is filled with hydraulic fluid. As the impeller rotates, it creates a vortex in the fluid, which in turn causes the turbine to rotate.
4. Fluid Coupling Working: As the impeller and turbine are enclosed in the housing, the hydraulic fluid transfers rotational energy from the impeller to the turbine without any direct physical connection. The fluid coupling allows some slip between the impeller and the turbine, which enables smooth torque transmission, dampens shock loads, and provides overload protection.
5. Slip: Under normal operating conditions, there is a slight speed difference (slip) between the impeller and the turbine. This slip allows the fluid coupling to absorb shock loads and dampen vibrations, protecting the connected machinery from sudden jolts and overloads.
Fluid couplings are advantageous in applications where a gradual start-up and controlled acceleration are required. They provide a smoother and more flexible power transmission compared to direct mechanical couplings like gear couplings or belt drives.
However, it's important to note that fluid couplings have some energy loss due to the slip, which can result in reduced efficiency compared to direct mechanical couplings like gear couplings or belt drives.



editor by CX 2023-09-04