Product Description
Product Description
A fluid coupling consists of 2 parts: the turbine and the pump. There are also blades inside, which are placed at an angle. The pump is mounted on the drive shaft end, while the turbine is on the driven shaft. When fluid enters the pump, the drive shaft rotates under the action of centrifugal force. When you add a reactor, it becomes a torque converter. Its main uses are industrial and marine applications.
Product Parameters
Fluid Coupling Specifications
Selection power table (KW)
Technical Data Sheet of Constant Filling Fluid Couplings YOX-Series
| | | | | | | | |
| --- | --- | --- | --- | --- | --- | --- | --- |
| Item no. | 600 (r/min) | 750 (r/min) | 1000 (r/min) | 1500 (r/min) | 3000 (r/min) | Lquid(L) | Weight(KG) |
| YOX-190 |   |   |   | 0.6-1.1 | 4.5-9.0 | 0.4-0.8 | 8.0 |
| YOX-200 |   |   |   | 0.75-1.5 | 5.5-11 | 0.5-1.0 | 9.5 |
| YOX-220 |   |   | 0.4-0.8 | 1.1-2.2 | 10-18.5 | 0.8-1.6 | 14 |
| YOX-250 |   |   | 0.7-1.5 | 2.5-5.0 | 15-30 | 1.1-2.2 | 15 |
| YOX-280 |   |   | 1.5-3.0 | 4.0-7.5 | 37-60 | 1.5-3.0 | 18 |
| YOX-320 |   | 1.1-2.2 | 2.7-5.0 | 7.5-15 | 45-0 | 2.5-5.0 | 28 |
| YOX-340 |   | 1.6-3.0 | 3.0-7.0 | 11-22 | 45-80 | 3.0-6.0 | 30 |
| YOX-360 |   | 2.0-3.8 | 4.5-9.0 | 15-30 | 50-100 | 3.5-7.0 | 46 |
| YOX-400 |   | 3.0-6.0 | 7.5-15 | 22-45 | 80-145 | 4.6-9.0 | 65 |
| YOX-420 |   | 3.5-7 | 11-18.5 | 37-60 |   | 6.5-12 | 66 |
| YOX-450 |   | 6.1-11 | 14-28 | 40-75 |   | 6.5-13 | 70 |
| YOX-500 |   | 10-19 | 26-50 | 75-132 |   | 10-19 | 133 |
| YOX-560 |   | 19-30 | 45-90 | 132-250 |   | 14-27 | 158 |
| YOX-600 | 12-24 | 25-50 | 60-120 | 200-375 |   | 24-40 | 170 |
| YOX-650 | 23-45 | 40-80 | 90-185 | 280-500 |   | 25-46 | 210 |
| YOX-710 | 30-60 | 60-115 | 150-280 |   |   | 37-60 | 310 |
| YOX-750 | 40-80 | 80-160 | 200-360 |   |   | 40-80 | 348 |
| YOX-800 | 45-90 | 110-220 | 280-500 |   |   | 50-95 | 420 |
| YOX-1000 | 140-280 | 270-550 |   |   |   | 70-140 | 510 |
Related products
Company Profile
Our Equipments
Main production equipment:
Large lathe, surface grinder, milling machine, gear shaper, spline milling machine, horizontal broaching machine, gear hobbing machine, shaper, slotting machine, bench drilling machine, radial drilling machine, boring machine, band sawing machine, horizontal lathe, end milling machine, crankshaft grinder, CNC milling machine, casting equipment, etc.
Inspection equipment:
Dynamic balance tester, high-speed intelligent carbon and sulfur analyzer, Blochon optical hardness tester, Leeb hardness tester, magnetic yoke flaw detector, special detection, modular fixture (self-made), etc.
Machining equipments
Heat equipment

Our Factory
Application – Photos from our partner customers
Company Profile
Our leading products are mechanical transmission basic parts – couplings, mainly including universal couplings, drum gear couplings, elastic couplings and other 3 categories of more than 30 series of varieties. It is widely used in metallurgical steel rolling, wind power, hydropower, mining, engineering machinery, petrochemical, lifting, paper making, rubber, rail transit, shipbuilding and marine engineering and other industries.
Our factory takes the basic parts of national standards as the benchmark, has more than 40 years of coupling production experience, takes "scientific management, pioneering and innovation, ensuring quality and customer satisfaction" as the quality policy, and aims to continuously provide users with satisfactory products and services. The production is guided by reasonable process, and the ISO9001:2015 quality management system standard is strictly implemented. We adhere to the principle of continuous improvement and innovation of coupling products. In recent years, it has successfully developed 10 national patent products such as SWF cross shaft universal coupling, among which the double cross shaft universal joint has won the national invention patent, SWF cross shaft universal coupling has won the new product award of China's general mechanical parts coupling industry and the ZHangZhoug Province new product science and technology project.
Our factory has strong technical force, excellent process equipment, complete professional production equipment, perfect detection means, excellent after-sales service, various products and complete specifications. At the same time, we can provide the design and manufacturing of special non-standard products according to the needs of users. Our products sell well at home and abroad, and are trusted by the majority of users. We sincerely welcome friends from all walks of life at home and abroad to visit and negotiate for common development.p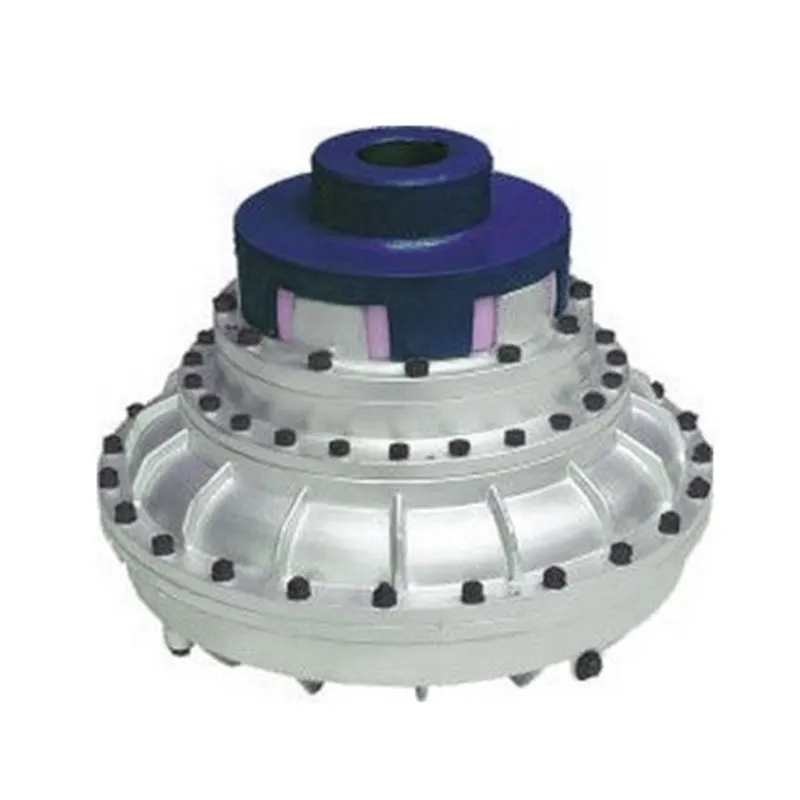 Fluid Coupling and Smooth Power Transmission during Starting and Stopping
A fluid coupling is designed to facilitate smooth power transmission during the starting and stopping phases of machinery and equipment. It achieves this by utilizing the principle of hydrodynamic torque transmission through a fluid medium.
Starting Phase: When power is initially supplied to the input shaft of the fluid coupling, the impeller (also known as the pump) begins to rotate, imparting energy to the fluid inside the coupling. As the fluid gains kinetic energy, it starts moving outward towards the turbine (also called the driven element) due to centrifugal force.
The kinetic energy of the moving fluid causes the turbine to start rotating, transmitting torque to the output shaft. During this starting phase, there is a slight time lag, known as the "slip," between the impeller and the turbine. However, as the fluid coupling reaches its operational speed, the slip reduces, and the turbine matches the speed of the impeller, resulting in smooth power transmission from the input to the output shaft.
The fluid coupling's ability to control the slip ensures a gradual and controlled acceleration of the driven equipment, minimizing stress on the drivetrain components and preventing sudden shock loads.
Stopping Phase: When power to the input shaft is reduced or cut off, the impeller slows down, and the kinetic energy in the fluid decreases. As a result, the fluid moves away from the turbine towards the center of the coupling, reducing the torque transmission between the input and output shafts.
This characteristic of the fluid coupling aids in smoothly decelerating the connected equipment, preventing sudden jolts or jerks during the stopping process. The ability to control the slip during deceleration ensures that the driven machinery comes to a gradual and controlled stop, enhancing safety and protecting the equipment from damage.
The combination of hydrodynamic torque transmission and the ability to control the slip makes fluid couplings ideal for applications where smooth power transmission during starting and stopping is essential. Industries such as mining, construction, metal processing, marine propulsion, and power generation benefit from the reliable and efficient performance of fluid couplings in various machinery and equipment.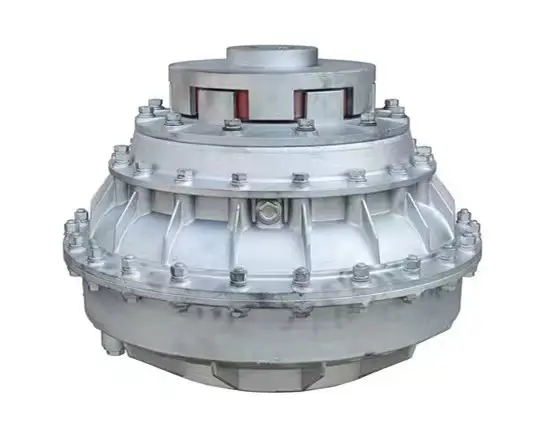 Real-World Case Studies: Improved Performance with Fluid Couplings
Fluid couplings have been widely adopted in various industries, and numerous real-world case studies demonstrate their positive impact on performance and efficiency. Here are a few examples:
Case Study 1: Mining Conveyor System
In a large mining operation, a conveyor system used to transport heavy loads of ore experienced frequent starts and stops due to fluctuating material supply. The abrupt starting and stopping led to significant wear and tear on the conveyor components, causing frequent breakdowns and maintenance downtime.
After installing fluid couplings at critical points in the conveyor system, the soft start and stop capability of the fluid couplings significantly reduced the mechanical stress during operation. This led to a smoother material flow, reduced conveyor wear, and extended equipment life. Additionally, the fluid couplings' overload protection feature prevented damage to the conveyor during peak loads, ensuring uninterrupted production.
Case Study 2: Marine Propulsion System
In a marine vessel equipped with traditional direct drive systems, the crew faced challenges in maneuvering the ship efficiently. The fixed propeller arrangement made it challenging to control the vessel's speed and direction accurately, leading to increased fuel consumption and decreased maneuverability.
By retrofitting the vessel's propulsion system with fluid couplings, the ship's performance improved significantly. The fluid couplings allowed for flexible and smooth speed control, enabling precise maneuvering and reduced fuel consumption. The ability to adjust the load on the propeller enhanced the vessel's overall efficiency, resulting in reduced operating costs and improved environmental sustainability.
Case Study 3: Industrial Pumping Station
In an industrial pumping station, the constant starting and stopping of the pumps caused water hammer and pressure surges within the pipeline network. The sudden hydraulic shocks led to pipe bursts, valve failures, and increased energy consumption.
After implementing fluid couplings in the pump drive systems, the pumps could be softly started and stopped. The fluid couplings' torque control capabilities ensured a gradual increase in pump speed, eliminating water hammer and pressure surges. As a result, the pumping station's reliability improved, maintenance costs decreased, and the energy consumption reduced due to smoother pump operations.
These case studies demonstrate the positive effects of using fluid couplings in various applications. They highlight how fluid couplings contribute to improved performance, reduced mechanical stress, enhanced control, and cost savings in industrial machinery and systems.
"`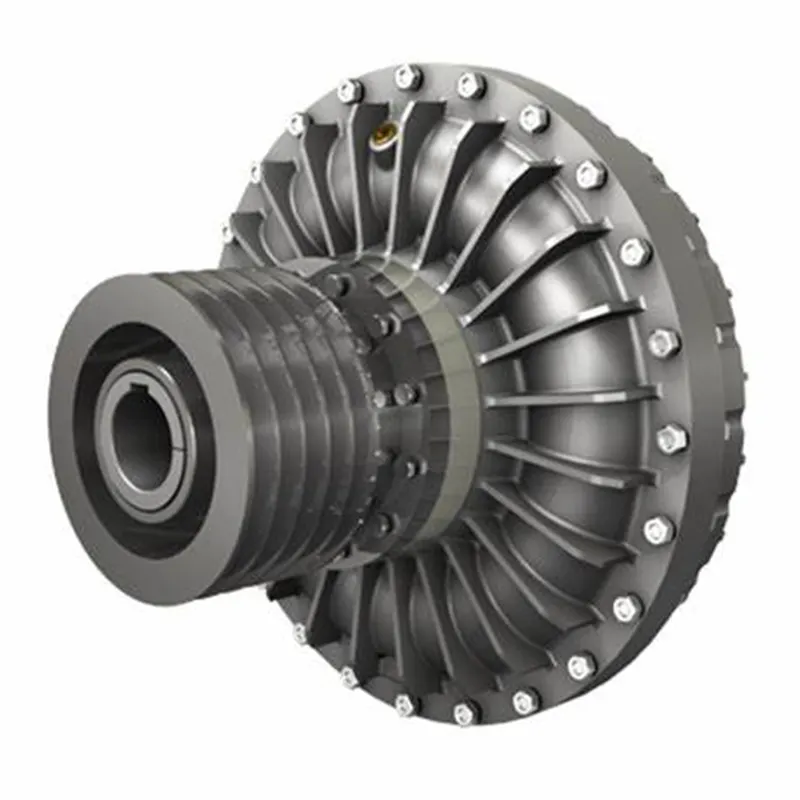 Safety Considerations when Working with Fluid Couplings
Fluid couplings are essential components in various industrial applications, and it's essential to follow safety guidelines when working with them. Here are some safety considerations:
Lockout-Tagout (LOTO): Before performing any maintenance or repair work on a fluid coupling, ensure that the equipment is properly shut down and that the energy sources are locked out and tagged out. This prevents accidental startup and protects personnel from potential hazards.
Fluid Containment: When draining or replacing the fluid in a fluid coupling, use appropriate containers to collect and contain the fluid. Avoid spills, as some coupling fluids may be hazardous.
High Temperatures: Fluid couplings can reach high temperatures during operation. Allow sufficient cooling time before handling or inspecting the coupling to avoid burns or injuries.
Personal Protective Equipment (PPE): Wear appropriate PPE, such as gloves and eye protection, when working with fluid couplings to protect against potential splashes or contact with hot surfaces.
Manufacturer Recommendations: Follow the safety guidelines and instructions provided by the fluid coupling manufacturer for installation, maintenance, and troubleshooting.
Proper Tools: Use the correct tools and equipment for maintenance and assembly tasks to prevent damage to the fluid coupling and ensure safe working conditions.
Training: Ensure that personnel working with fluid couplings are adequately trained in their proper use, maintenance, and safety procedures.
Inspections: Regularly inspect the fluid coupling for any signs of wear, leaks, or abnormalities that could pose safety risks. Address any issues promptly.
Hot Work: Avoid performing hot work (e.g., welding, cutting) in the vicinity of fluid couplings, as the high-temperature fluids and components may present a fire hazard.
Consult Experts: If in doubt or facing complex issues with fluid couplings, consult qualified experts or the manufacturer for guidance.
Adhering to these safety considerations will help minimize risks and ensure a safe working environment when dealing with fluid couplings.



editor by CX 2023-10-09